Pound for pound, it's the best cake around. A Southern classic and baker's delicious go-to, the pound cake represents all the simple glories a cake can offer: a crispy crust, tender crumb, and rich, buttery flavor. We're serving up our favorite recipes for the tube pan wonder, from a traditional Southern cream cheese dream to a modern black-and-white marbled stunner primed for a potluck in our Best Pound Cakes.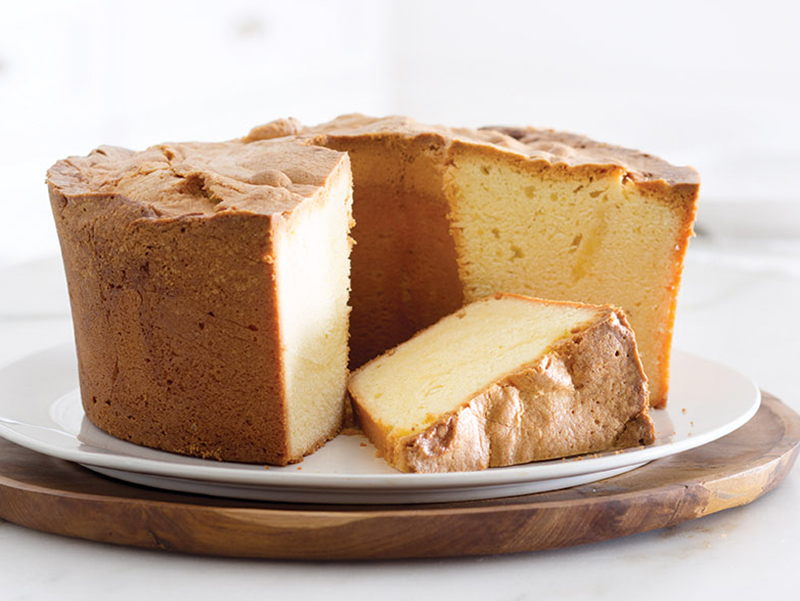 When you say "pound cake" to a Southerner, they usually think of something intensely rich, tall, and capped with a crackling crust of butter and sugar so good that people fight over it. In this cake by Ben Mims, the butter, flour, and egg match in proportion, but the sugar is almost double the weight, which ensures that crackling crust and gives the cake the requisite sweetness that Southern palates are known to love. Cream cheese not only adds extra fat (flavor!), but also moisture, stability, and some tang to balance all that sugar.
2. Coconut Buttermilk Pound Cake
Fluffy, moist, and filled with all kinds of coconut, this Coconut Buttermilk Pound Cake is a true crowd pleaser. Don't skip the toasted flakes on top—the subtle crunch makes this cake absolutely irresistible.
3. Little Lemon Meringue Pound Cakes
Whipped heavy cream is a frequent addition to pound cakes because it adds the same amount of fat as butter but with additional moisture to produce a particularly smooth, tender cake. In this recipe by Ben Mims, the technique is a boon to these small, tangy versions, made with lemon zest in the batter and su used with a tart lemon syrup. The meringue on top is piped with three different-size star tips to mimic the top of a bouquet of flowers, then torched until cooked through and caramelized. If you're a fan of lemon meringue pie but have always wanted it with just a thick crust and meringue, then this cake will be your dream come true.
A rich, tangy dose of buttermilk and swirls of cream cheese complement the bright sweetness of the peaches in this decadent pound cake.
5. Bourbon-Pineapple Pound Tart
Pound cakes have long been relegated to large, deep pans—and for good reason: The heaviness of the cakes means they don't rise much and need to "settle" into pans that already have structure in order to bake up well. But for this cake, cookbook author Ben Mims went with a large, deep tart pan to produce a sleek, slim wedge of cake that eats like a tart, complete with fluted edge and chunks of fresh fruit on top. Here, that fruit is pineapple, and the fresh chunks are a perfect complement to every Southerner's favorite booze, bourbon, in both the tart and the glaze.
6. Strawberry and Cream Cheese Pound Cake Loaves
These cakes bring the ever-popular combination of strawberries and cream to each decadent slice. With homemade strawberry sauce swirled into each loaf, they're just as beautiful as they are delicious.