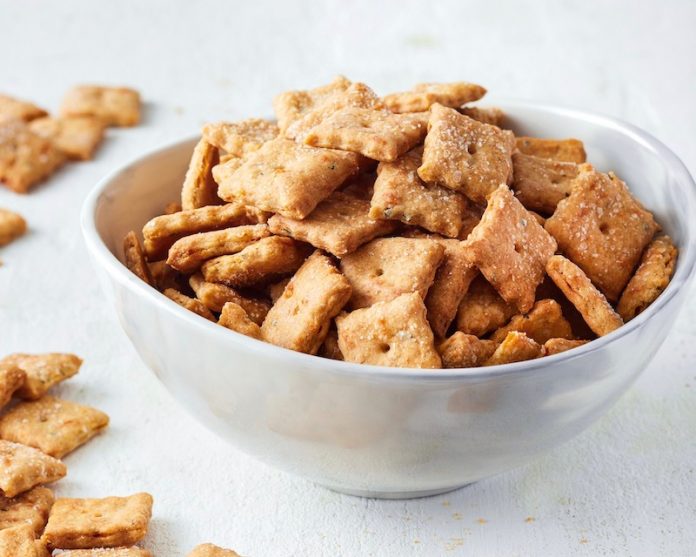 If you love Cheez-Its or Cheese Nips snack crackers, you'll love this homemade version. This dough freezes beautifully. If you want to change the flavor profile, you can use different spices or herbs, or change the cheese. They're great with smoked paprika and Manchego or with herbes de Provence and Parmesan. Cut them into small squares to mimic those beloved snack crackers, but cut them any shape or size you like.

Sourdough Cheese Crackers
Makes about 400 small snack-size crackers or 100 regular-size crackers
Ingredients
½ cup (65 grams) white whole wheat flour
½ cup (63 grams) all-purpose flour
2 teaspoons (1 gram) finely chopped fresh rosemary
¼ teaspoon (1.25 grams) baking soda
¼ teaspoon onion powder
¼ teaspoon dry mustard
¼ teaspoon kosher salt, plus more for sprinkling
⅛ teaspoon garlic powder
1 cup (275 grams) sourdough starter discard, room temperature
¼ cup (57 grams) salted butter, melted and cooled
½ cup (50 grams) freshly grated sharp or extra-sharp Cheddar cheese (see Note)
Instructions
In a medium bowl, stir together flours, rosemary, baking soda, onion powder, mustard, salt, and garlic powder. In a large bowl, stir sourdough discard to ensure it is smooth. Add melted butter, stirring until well combined. Stir in cheese. Add flour mixture to discard mixture, and knead until well combined. (You will get a very pliable dough that is a bit like the texture of soft clay. You should not need extra flour to knead because the butter in the dough will keep it from sticking.)
Place dough in resealable plastic bags, and refrigerate for at least 8 hours or up to 24 hours. If in a hurry, the crackers will bake after a 20-minute refrigeration, but the longer rest period helps the flavor really develop. (Dough can also be frozen wrapped tightly in plastic wrap and placed in heavy-duty resealable plastic bags. Thaw in refrigerator overnight before baking.)
Let dough stand at room temperature for 30 minutes.
Preheat oven to 350°F (180°C).
Roll dough onto a sheet of parchment paper, ⅛ to 1/16 inch thick. Cut dough into crackers. If you want snacking crackers, cut smaller squares, but if you want to use them for cheese or other toppings, make them larger. I use a pizza wheel cutter for this, but a sharp knife will do fine. Slide parchment onto baking sheets. Lightly spray top of crackers with cooking spray, and very lightly sprinkle with salt.
Bake for 14 minutes, rotating and turning pans halfway through baking. Turn oven off, and let crackers stand in oven with door closed for 10 to 15 minutes, watching them carefully to ensure they don't burn. For optimal flavor and texture, you want them pretty golden brown but not too dark, and you want them stiff and crispy. Let cool completely on pans. Store in an airtight container for up to 2 weeks, or freeze in heavy-duty resealable plastic bags for up to 6 months.
Notes
Pre-shredded cheese contains starches that are used to prevent it from clumping, but the starches can inhibit melting and mixing. You want a cracker with good cheese flavor, but without being able to see the shreds of cheese in the cracker. It's worth the extra couple of minutes to shred cheese by hand on the fine side of a box grater.